Photo Highlights 2018: Another year coming to a close, and what a year it was! Like every year there were plenty of ups and downs, but 2018 really packed them in. Most of 2018 was dominated by family related obligations, which for extended periods kept me from working on my business. However, at one point those same obligations opened up a unique opportunity for me to travel to new photography destinations. Some of the photos in this post were a result of that opportunity.
Every December when I put together these yearly photo highlights I'm somewhat uncertain of which images to include. On one hand I want to share my most creatively and technically successful photos. But on the other hand I also want to share photos of memorable moments, which may not hold any appeal to others. Fortunately many of the following images represent both viewpoints. In fact nearly all of them hold a very deep emotional bond to me, and they will always stand out as powerful memories to a year filled with turning points.
Please feel free to vote or comment on your favorite photos in the comments section, I'd love to hear from you. Also, if you enjoyed these images please share this post with friends family and coworkers. Finally, all of the photos are available as fine art prints and commercial licensing, just click on any to see purchasing options. I hope all of you have a new year filled with peace, prosperity, and joy!
Photo Highlights 2018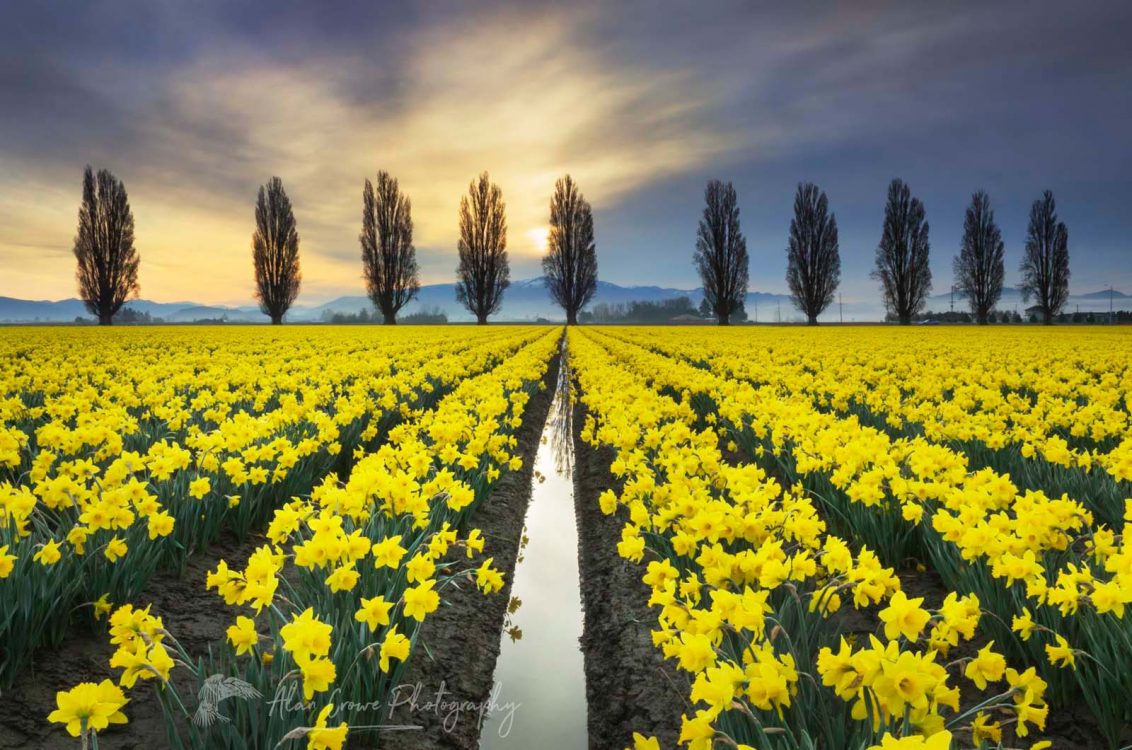 Skagit Valley  #61987b  Purchase
#1) Skagit Valley Daffodill Fields. Unable to get out for winter photography this year I was looking forward to a short trip down to the Skagit Valley for the annual daffodil and tulip blooms. This morning offered a brief burst of light and color in an otherwise grey sky.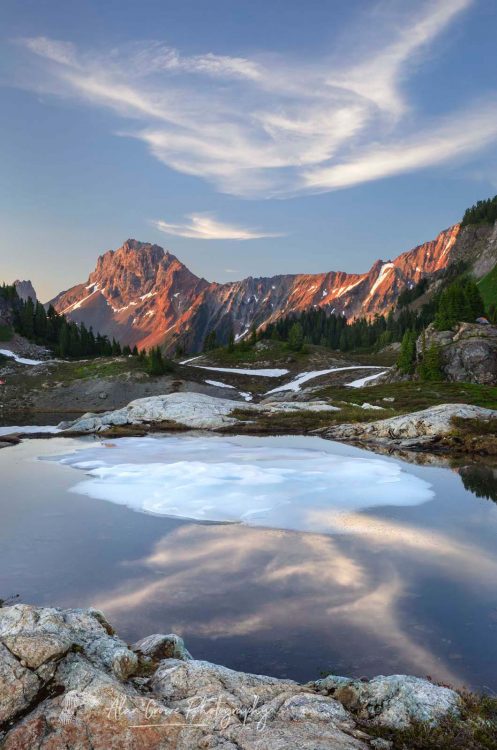 Yellow Aster Butte Basin, North Cascades  #62789  Purchase
#2)  Tarn in Yellow Aster Butte Basin, Mount Baker Wilderness, North Cascades.  This is one of the more popular hiking destinations in the North Cascades. Less than two hours from my home, I like to return here every few years, for both photography and just getting away. On this trip I enjoyed watching and photographing this group clouds change shapes at sunset.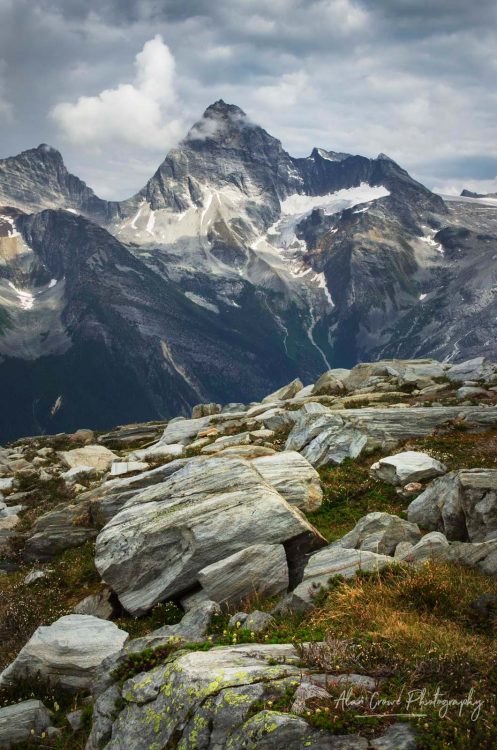 Mount Sir Donald, British Columbia  #62836  Purchase
#3) Mount Sir Donald, seen from Abbott Ridge, Glacier National Park British Columbia. This photo marks the beginning of a lengthy trip that took me to a variety of destinations in the Midwest, and beyond. Glacier National Park, in British Columbia's Selkirk Mountains, has some of the most dramatic mountain scenery in the province. The park also has some of the most steepest and challenging hiking trails around. The hike up to this viewpoint gained 3400′ in about 3.5 miles, a real thigh burner!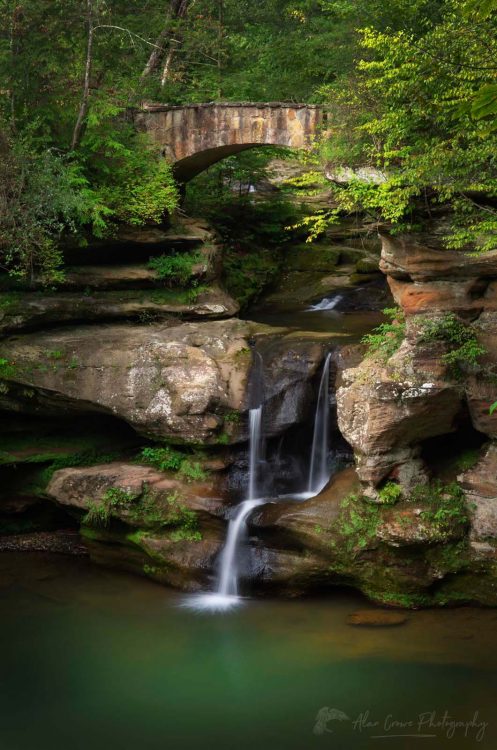 Upper Falls Old man's Cave, Ohio #63229  Purchase
#4) Upper Falls, Old Man's Cave, Hocking Hills State Park Ohio. Further along on the same trip I spent a sweltering August week in Chicago on family related business. When finished I started the main photo tour in earnest. Hocking Hills State Park is a great location I  found out about via a rest stop visitor's guide a few years ago. This region in eastern Ohio is marked by picturesque rolling hills. Hocking Hills State Park contains a few sandstone gorges filled with pretty waterfalls and overhangs. Unfortunately the steamy humidity followed me here from Chicago and continued tormenting me for most of the trip.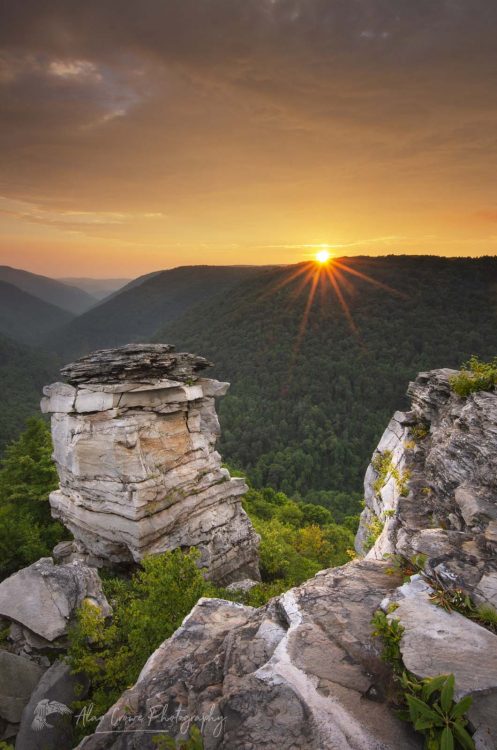 Lindy Point West Virginia #63427  Purchase
#5) Sunset at Lindy Point, Blackwater Falls State Park, West Virginia. This was my first visit to the central ranges of the Appalachian Mountains. Unlike mountains out west the Appalachians rarely offer sweeping views above tree line. Here in Blackwater Falls State Park, Lindy Point offers a rare panoramic view of the mountains and valleys. Having the area mostly to myself, I spent the entire afternoon and evening watching and photographing the fascinating changes in clouds and light. And yes, it was still horribly hot and humid!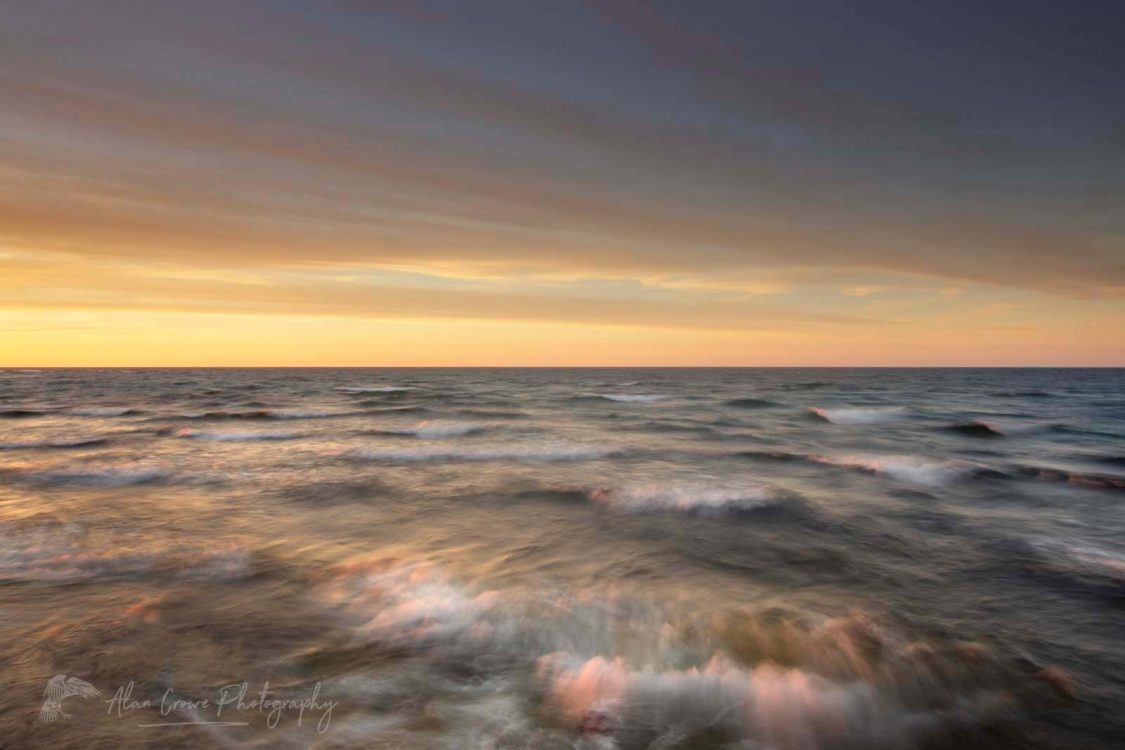 Lake Superior Michigan  #63866  Purchase
#6) Windy Sunset over Lake Superior at Pictured Rocks National Lakeshore. Michigan was another new destination on this trip. I had been looking forward to photographing many of it's locations on the Great Lakes and Upper Peninsula for years. While photographing at Pictured Rocks National Lakeshore the wind really whipped up at sunset. I took advantage of the conditions to try some minimalist compositions and slow shutter speeds. I'll soon be working on a separate post featuring more images from Lake Superior in this style. You can see several more right now in the New Images 2018 gallery.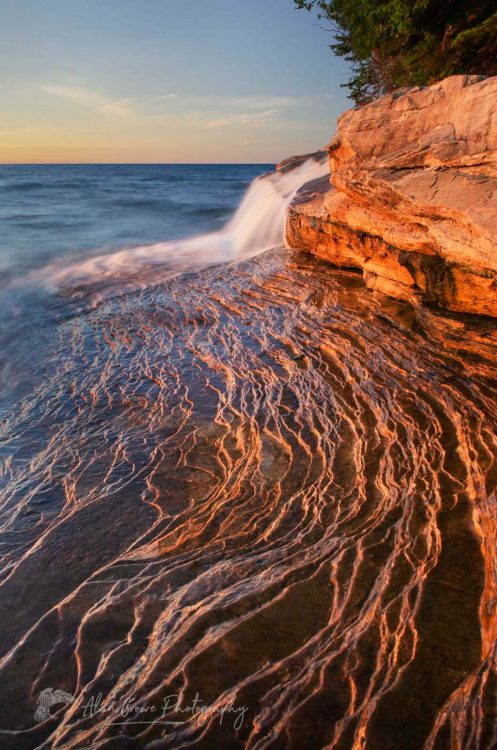 Pictured Rocks National lakeshore  #63933b  Purchase
#7) Elliot Falls, Pictured Rocks National Lakeshore Michigan. This fun little waterfall was on my must see list when visiting Pictured Rocks. The waterfall itself isn't very big or exciting, but together with spilling directly into Lake Superior over colorful layers of sandstone really makes it stand out. Just before sunset those layers took on a nice warm glow that added another nice dimension to the scene.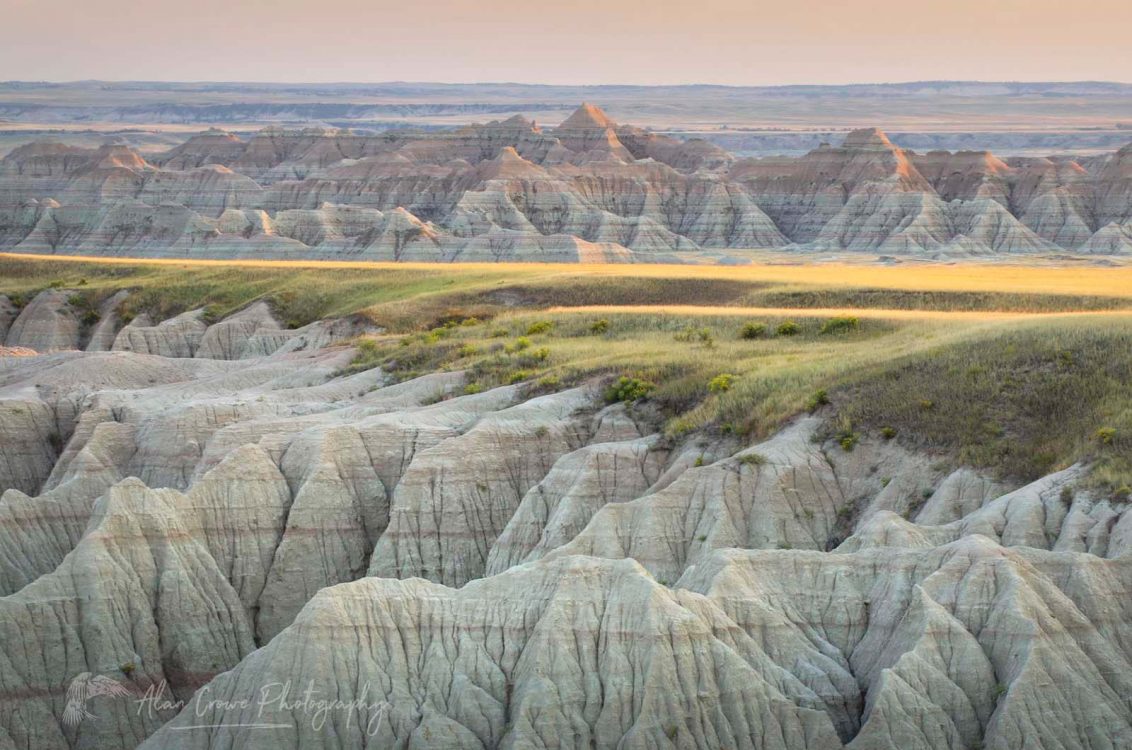 Badlands National Park  #64277  Purchase
#8) White River valley Overlook, Badlands National Park South Dakota. On the way home on Interstate 90 after a long tour I couldn't pass up making a brief stop in Badlands National Park. I always enjoy visiting this fascinating terrain, plus I was thrilled to be out west again and out of the Midwest humidity. This is another one of those locations that you can visit over and over and always see something new in different seasons and lighting conditions.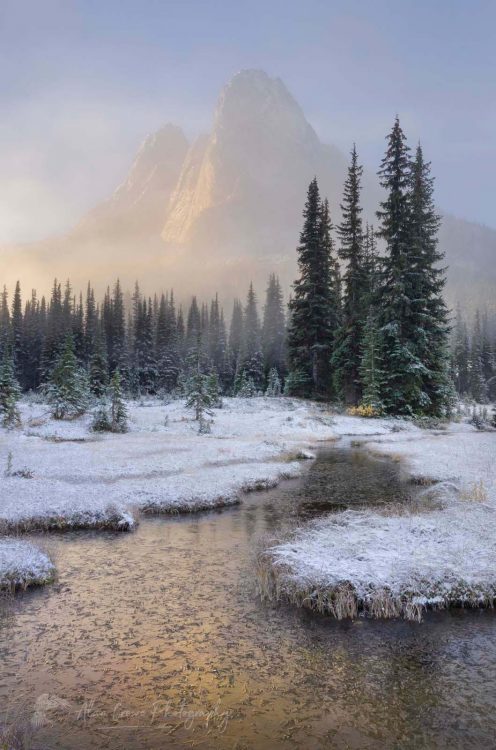 Liberty Bell Mountain North Cascades  #64469  Purchase
#9) Liberty Bell Mountain at Washington Pass on a frosty fall morning. The photographic year ended early for me in 2018, but on a very high note. I was swamped with work after returning from nearly seven weeks on the road. Between catching up on business, photo editing, and home projects, I had little time to get out again. But I couldn't pass up a good stretch of fall weather at the beginning of October. I headed up the North Cascades Highway to some of my favorite spots, Washington Pass and Rainy Pass. After a fresh snowfall this scene at Washington Pass took on an interesting mood as a bit of fog rolled in over the pass. I've photographed this area for over thirty years and this is one of my favorite images so far.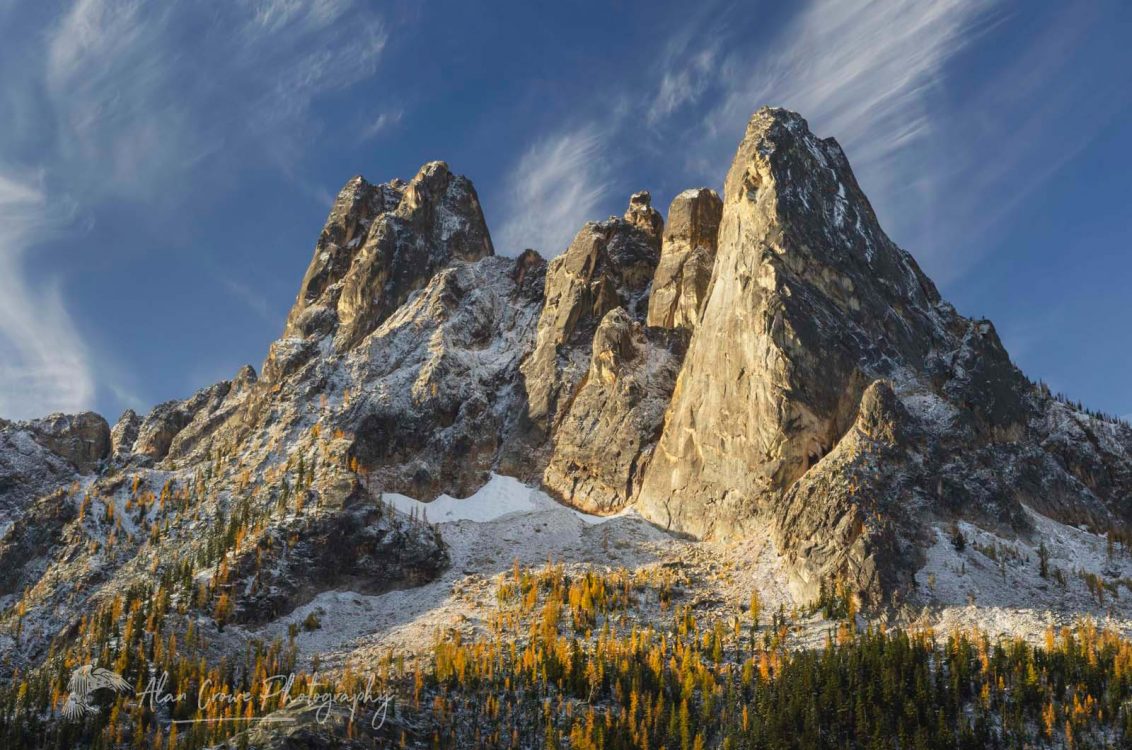 Liberty Bell Mountain, North Cascades  #64568  Purchase
#10) Liberty Bell Mountain from Washington Pass Overlook. My final image is a companion to #9, made about an hour later. After photographing from the meadows in the previous image I almost packed it in and left, since I felt the light had played itself out for the morning. However, I had a hunch to stop by the paved overlook trail to see what may be happening there. I'm glad I did, the light was still and warm with nice wispy clouds in a blue sky. This is a classic Northwest view photographed millions of times, but it never gets old for me. Driving out from Chicago in a beat up old car when I was 19, this was my first view of the North Cascades. I fell in love with these mountains right then and there, and I always feel blessed I can call them home!
See the entire selection of 2018 Photo Highlights in my New Additions Gallery